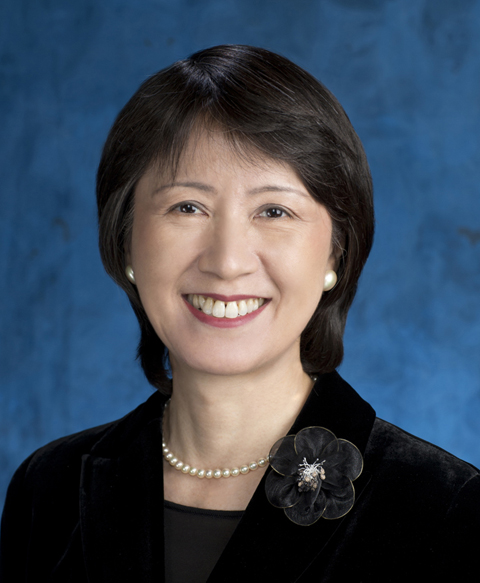 Tomoko Takahashi, PhD, EdD, LHD
Chair, Board of Directors
Tomoko Takahashi currently works as the Vice President for Institutional Research & Assessment and the Dean of the Graduate School at a leading liberal arts university in California. She has served as the founding Dean of the Graduate School there and directed the Master of Arts degree program in Second and Foreign Language Education. Tomoko also serves on the WASC Senior College and University Commission (WSCUC).
Tomoko received her BA in English with magna cum laude from Albertus Magnus College; an MA, EdM, and EdD in applied linguistics from Teachers College, Columbia University; and a PhD in translation studies from Monash University in Australia.
Tomoko is a best-selling and award-winning author, who has published a number of books including fifteen textbooks for Japanese learners of English, eight of which have been translated into Chinese and Korean; scholarly books in English and Japanese on language learning, cross-cultural communication, and lexico-semantics; and Japanese translations of Rosa Parks: My Story, Quiet Strength, and Dear Mrs. Parks
Tomoko's memoir entitled Samurai and Cotton: A Story of Two Life Journeys in Japan and America, published in November 2011, was named the Winner in the Autobiography category of the 2012 Next Generation Indie Book Awards. It was also honored as an Award-Winning Finalist in the Autobiography/Memoir category of the 2012 International Book Awards. Among other numerous awards and honors, Tomoko received a Doctor of Humane Letters Honoris Causa from Albertus Magnus College in 2006.
An active volunteer, Tomoko has donated her time and expertise to local, regional, and international communities – e.g., as a member of the Board of Trustees of Albertus Magnus College (1996 – 2017); as a member of the steering committee on the annual "Pathways to Freedom" program sponsored by the Rosa and Raymond Parks Institute for Self-Development (1995 – 2000); as an interpreter and/or organizer for non-profit organizations.